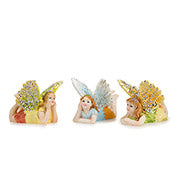 Magical gardening in miniature style, the Yard and Garden Collection© is perfect for creating your own tiny world. These fairy figures are in a flying position and bring colorful magic into your garden. Lying flat, these charming fairies come in an assortment of 3 styles. Each pixie is wearing a 2-color outfit and has wings decorated with sparkles. The resting positions allows this figure to sit easily on a bench or the ground.
Tapped with unlimited design potential that the whimsical world of fairy gardening offers, this enchanting collection features a variety of accents, in a variety of sizes, perfect for completing your little garden.
Flying fairy figure
Made of resin
Fairies approximately measure 1.25 x 1.5 x 2 inches
1 piece per package.