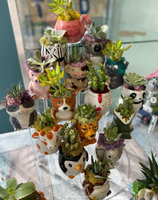 Plant Buddy Collections
Grab your Plant Buddies! We can ship to door. We only sell out plant buddies in collections here on mysucculentshop.com > If you are looking to buy a specific buddy or a single you can find them in store at Island Farmhouse- Wading River, NY
I want Plant Buddies >>>
Hand Crafted Succulent Terrarium Gardens
Owner Tammy Bishop out of East Moriches, NY offers seasonal succulent gardens great for any home. Succulents are easy to care for a give off beautiful subtle colorations. Succulents are great for beginner plant enthusiasts as they need very little care to thrive! 
All of our terrariums are created in unique one of kind planters to match all sorts of homes. 
Shop Succulent Gardens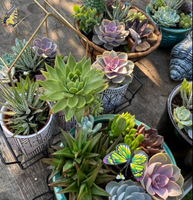 Host a PRivate Plant Nite Terrarium Building Party
Did you know that we host private virtual or in person Plant Nite Parties?!
If you have heard of Paintnite.com then your going to love Plant Nite! Same concept where we get together with close friends and family and do a fun project together. Talk with Tammy about customizing your event needs! Plant Nite events can be held for most age groups.
We have hosted for large corporate companies such as facebook, google, netflix and so many more virtually. We also have hosted tons of local Long Islanders in their homes and at restaurants across the island.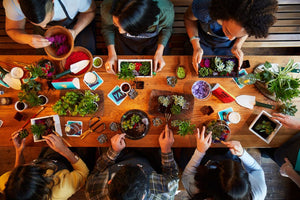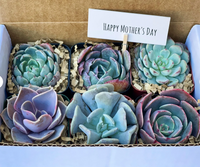 Succulent Care Packages- Coming Soon!
Give that special someone a thoughtful gift letthing the know your thinking of them!
All things Succulent Care